Product Summary
The CBTU4411EE is a high-bandwidth, SSTL_18 compatible FET multiplexer/demultiplexer with low ON-state resistance (ron). The device utilizes an internal charge pump to elevate the gate voltage of the pass transistor, providing a low and flat ron. The low and flat ron allows for minimal propagation delay and supports rail-to-rail signaling on data input/output (I/O) ports. The CBTU4411EE also features very low data I/O capacitance to minimize capacitive loading and signal distortion on the data bus.
Parametrics
CBTU4411EE absolute maximum ratings: (1)Supply voltage range, VDD: -0.5 V to 2.5 V; (2)Control input voltage range, VIN: -0.5 V to 2.5 V; (3)Switch I/O voltage range, VI/O: -0.5 V to 2.5 V; (4)Control input clamp current, IIK (VIN < 0 or VIN > 0): ±50 mA; (5)I/O port clamp current, II/OK (VI/O < 0 or VI/O > 0): ±50 mA; (6)ON-state switch current, II/O: ±100 mA; (7)Continuous current through VDD or GND terminals: ±100 mA; (8)Package thermal impedance, θJA: TBD℃/W; (9)Storage temperature range, Tstg: -65℃ to 150℃.
Features
CBTU4411EE features: (1)Supports SSTL_18 Signaling Levels; (2)Suitable for DDR-II Applications; (3)D.Port Outputs Are Precharged by Bias Voltage (VBIAS); (4)Internal Termination for Control Inputs; (5)High Bandwidth (334 MHz Min); (6)Low and Flat ON-State Resistance (ron) Characteristics, (ron = 17Ω Max); (7)Internal 400- Pulldown Resistors; (8)Low Differential and Rising/Falling Edge Skew; (9)Latch-Up Performance Exceeds 100 mA Per JESD 78, Class II; (10)ESD Performance Tested Per JESD 22-2000-V Human-Body Model; (11)(A114-B, Class II); 1000-V Charged-Device Model (C101).
Diagrams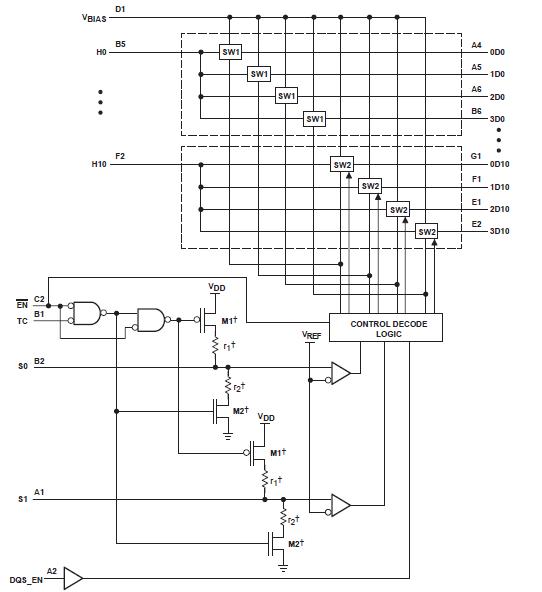 Image
Part No
Mfg
Description
Pricing
(USD)
Quantity

CBTU4411EE

NXP Semiconductors

Digital Bus Switch ICs 10BIT DDR SDRAM MUX BUS SWITCH

Data Sheet

Negotiable

CBTU4411EE,518

NXP Semiconductors

Digital Bus Switch ICs 10BIT DDR SDRAM MUX

Data Sheet



| | |
| --- | --- |
| 0-1: | $0.97 |
| 1-25: | $0.86 |
| 25-100: | $0.75 |
| 100-250: | $0.60 |


CBTU4411EE,557

NXP Semiconductors

Digital Bus Switch ICs 10BIT DDR SDRAM MUX

Data Sheet



| | |
| --- | --- |
| 0-1550: | $0.53 |
| 1550-2080: | $0.53 |
| 2080-3000: | $0.51 |
| 3000-6000: | $0.49 |


CBTU4411EE-S

NXP Semiconductors

Digital Bus Switch ICs 10BIT DDR SDRAM MUX BUS SWITCH

Data Sheet

Negotiable

CBTU4411EE-T

NXP Semiconductors

Digital Bus Switch ICs 10BIT DDR SDRAM MUX BUS SWITCH

Data Sheet

Negotiable

CBTU4411EE,551

NXP Semiconductors

Digital Bus Switch ICs 10BIT DDR SDRAM MUX

Data Sheet

Negotiable