Product Summary
The NSS12100XV6T1G is a low VCE(sat) transistor. The NSS12100XV6T1G is miniature surface mount devices featuring ultra low saturation voltage (VCE(sat)) and high current gain capability. The device is designed for use in low voltage, high speed switching applications where affordable efficient energy control is important. Typical application are DC-DC converters and power management in portable and battery powered products such as cellular and cordless phones, PDAs, computers, printers, digital cameras and MP3 players. Other applications are low voltage motor controls in mass storage products such as disc drives and tape drives.
Parametrics
NSS12100XV6T1G absolute maximum ratings: (1)Collector-Emitter Voltage, VCEO: -12 Vdc; (2)Collector-Base Voltage, VCBO: -12 Vdc; (3)Emitter-Base Voltage, VEBO: -5.0 Vdc; (4)Collector Current, Continuous, IC: -1.0A; (5)Collector Current, Peak, ICM: -2.0Adc; (6)Electrostatic Discharge, ESD: HBM Class 3MM Class C.
Features
NSS12100XV6T1G features: (1)High Current Capability (1 A); (2)High Power Handling (Up to 650 mW); (3)Low VCE(s) (150 mV Typical @ 500 mA); (4)Small Size; (5)This is a Pb-Free Device.
Diagrams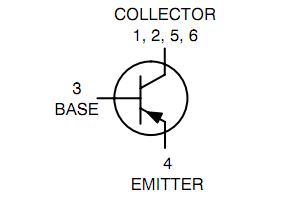 Image
Part No
Mfg
Description
Pricing
(USD)
Quantity

NSS12100XV6T1G

ON Semiconductor

Transistors Bipolar (BJT) 12V PNP LOW VCE(SAT) XTR

Data Sheet



| | |
| --- | --- |
| 0-1: | $0.27 |
| 1-25: | $0.18 |
| 25-100: | $0.16 |
| 100-500: | $0.13 |

Image
Part No
Mfg
Description
Pricing
(USD)
Quantity

NSS12100M3T5G

ON Semiconductor

Transistors Bipolar (BJT) 12V LOW VSAT SOT723 PNP

Data Sheet



| | |
| --- | --- |
| 0-1: | $0.16 |
| 1-25: | $0.15 |
| 25-100: | $0.12 |
| 100-250: | $0.10 |


NSS12100UW3TCG

ON Semiconductor

Transistors Bipolar (BJT) 12V 1A LOW VCE(SAT) WDFN3

Data Sheet



| | |
| --- | --- |
| 0-1: | $0.32 |
| 1-25: | $0.31 |
| 25-100: | $0.30 |
| 100-250: | $0.28 |


NSS12100XV6T1G

ON Semiconductor

Transistors Bipolar (BJT) 12V PNP LOW VCE(SAT) XTR

Data Sheet



| | |
| --- | --- |
| 0-1: | $0.27 |
| 1-25: | $0.18 |
| 25-100: | $0.16 |
| 100-500: | $0.13 |


NSS12200WT1G

ON Semiconductor

Transistors Bipolar (BJT) 2A 12V Low VCEsat

Data Sheet



| | |
| --- | --- |
| 0-1: | $0.25 |
| 1-25: | $0.19 |
| 25-100: | $0.16 |
| 100-500: | $0.11 |


NSS12500UW3T2G

ON Semiconductor

Transistors Bipolar (BJT) 2 2 LOW VCE(SAT) TR

Data Sheet



| | |
| --- | --- |
| 0-1: | $0.39 |
| 1-25: | $0.29 |
| 25-100: | $0.25 |
| 100-500: | $0.18 |


NSS12601CF8T1G

ON Semiconductor

Transistors Bipolar (BJT) HEX SCHMITT TRIGGER INVERTOR

Data Sheet



| | |
| --- | --- |
| 0-1: | $0.42 |
| 1-25: | $0.32 |
| 25-100: | $0.27 |
| 100-500: | $0.20 |