Product Summary
The SN75LVDS83BDGGR is a Flatlink transmitter. The SN75LVDS83BDGGR FlatLink transmitter contains four 7-bit parallel-load serial-out shift registers, a 7X clock synthesizer, and five Low-Voltage Differential Signaling (LVDS) line drivers in a single integrated circuit. These functions allow 28 bits of single-ended LVTTL data to be synchronously transmitted over five balanced-pair conductors for receipt by a compatible receiver, such as the SN75LVDS82 and LCD panels with integrated LVDS receiver. The applications of the SN75LVDS83BDGGR include LCD Display Panel Driver, UMPC and Netbook PC, Digital Picture Frame.
Parametrics
SN75LVDS83BDGGR absolute maximum ratings: (1)Supply voltage range, VCC, IOVCC, LVDSVCC, PLLVCC: -0.5V to 4V; (2)Voltage range at any output terminal: -0.5V to VCC + 0.5V; (3)Voltage range at any input terminal: -0.5V to IOVCC + 0.5V; (4)Continuous power dissipation: See the dissipation rating table; (5)Storage temperature, Ts: –65℃ to 150℃; (6)ESD rating Human Body Model (HBM) all pins: 5KV; (7) Charged Device Model (CDM) all pins: 500 V; (8) Machine Model (MM) all pins: 150 V.
Features
SN75LVDS83BDGGR features: (1)LVDS Display Serdes Interfaces Directly to LCD Display Panels with Integrated LVDS; (2)Package Options: 4.5mm ×7mm BGA, and 8.1mm ×14mm TSSOP; (3)1.8V up to 3.3V Tolerant Data Inputs to Connect Directly to Low-Power, Low-Voltage Application and Graphic Processors; (4)Transfer Rate up to 135Mpps (Mega Pixel Per Second); Pixel Clock Frequency Range 10MHz to 135MHz; (5)Suited for Display Resolutions Ranging From HVGA up to HD With Low EMI; (6)Operates From a Single 3.3V Supply and 170mW (typ.) at 75MHz; (7)28 Data Channels Plus Clock In Low-Voltage TTL to 4 Data Channels Plus Clock Out Low Voltage Differential; (8)Consumes Less Than 1mW When Disabled; (9)Selectable Rising or Falling Clock Edge Triggered Inputs; (10)ESD: 5kV HBM; (11)Support Spread Spectrum Clocking (SSC); (12)Compatible with all OMAP 2x, OMAP 3x, and DaVinci Application Processors.
Diagrams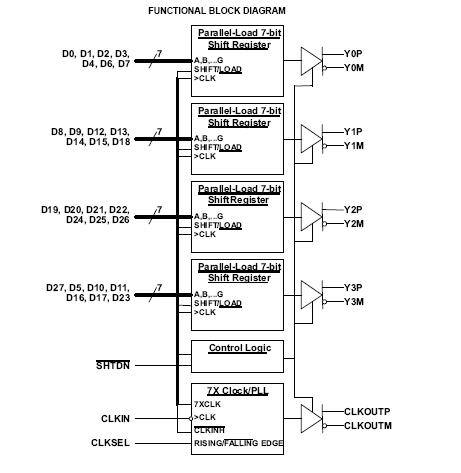 Image
Part No
Mfg
Description
Pricing
(USD)
Quantity

SN75LVDS83BDGGR

Texas Instruments

Bus Transmitters FlatLink 10-135MHz Transmitter

Data Sheet



| | |
| --- | --- |
| 0-1: | $3.43 |
| 1-25: | $2.89 |
| 25-100: | $2.65 |
| 100-250: | $2.42 |

Image
Part No
Mfg
Description
Pricing
(USD)
Quantity

SN75061

Other



Data Sheet

Negotiable

SN75076B

Other



Data Sheet

Negotiable

SN75107A

Other



Data Sheet

Negotiable

SN75107AD

Texas Instruments

Bus Receivers Dual Line

Data Sheet



| | |
| --- | --- |
| 0-1: | $1.26 |
| 1-25: | $1.01 |
| 25-100: | $0.92 |
| 100-250: | $0.79 |


SN75107ADE4

Texas Instruments

Buffers & Line Drivers DUAL LINE RECEIVER

Data Sheet



| | |
| --- | --- |
| 0-1: | $1.26 |
| 1-25: | $1.01 |
| 25-100: | $0.92 |
| 100-250: | $0.79 |


SN75107ADG4

Texas Instruments

Buffers & Line Drivers Dual Line Receiver

Data Sheet



| | |
| --- | --- |
| 0-1: | $1.26 |
| 1-25: | $1.01 |
| 25-100: | $0.92 |
| 100-250: | $0.79 |