Product Summary
The W9825G6JH-6 is a high-speed synchronous dynamic random access memory (SDRAM), organized as 4M words × 4banks × 16 bits. The W9825G6JH-6 delivers a data bandwidth of up to 100M words per second. To fully comply with the personal computer industrial standard, it is sorted into the following speed grade: -5. The -5 grade parts is compliant to the 200MHz/CL3 specification.


Parametrics
W9825G6JH-6 absolute maximum ratings: (1)Voltage on any pin relative to VSS: -0.5 to VDD+0.5(≦4.6Vmax); (2)Voltage on VDD supply relative to Vss: -0.5 to 4.6V; (3)Operating temperature: 0 to 70℃; (4)Storage temperature: -55 to 150℃; (5)Soldering temperature: 260℃; (6)Power dissipation: 1W; (7)Short circuit output current: 50mA.

Features
W9825G6JH-6 features: (1)3.3V±0.3V power supply; (2)Up to 200MHz clock frequency; (3)4,194,304 words × 4 banks ×16 bits organization; (4)Self refresh mode: standard and low power; (5)CAS latency: 2 and 3; (6)Burst length: 1, 2, 4, 8 and full page; (7)Burst read, single writes mode; (8)Byte data controlled by LDQM, UDQM; (9)Power down mode; (10)Auto-precharge and controlled precharge; (11)8K refresh cycles/64ms.

Diagrams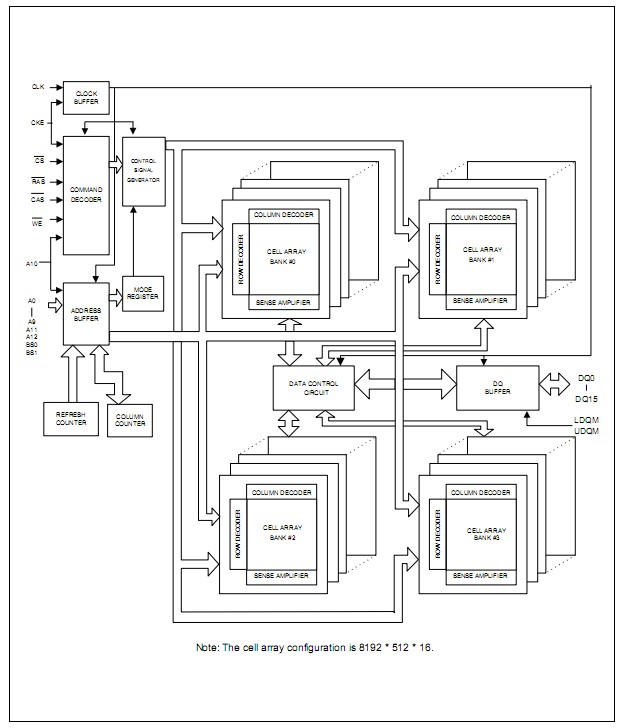 Image
Part No
Mfg
Description
Pricing
(USD)
Quantity

W9825G6JH-6I



IC SDRAM 256MBIT 54TSOPII

Data Sheet



| | |
| --- | --- |
| 0-1: | $1.87 |
| 1-10: | $1.68 |
| 10-25: | $1.66 |
| 25-50: | $1.65 |
| 50-100: | $1.48 |
| 100-250: | $1.43 |
| 250-500: | $1.42 |
| 500-1000: | $1.32 |
| 1000-2500: | $1.30 |

Image
Part No
Mfg
Description
Pricing
(USD)
Quantity

W9825G6EH-6



IC SDRAM 256MB 166MHZ 54-TSOPII

Data Sheet

Negotiable

W9825G6JH-6I



IC SDRAM 256MBIT 54TSOPII

Data Sheet



| | |
| --- | --- |
| 0-1: | $1.87 |
| 1-10: | $1.68 |
| 10-25: | $1.66 |
| 25-50: | $1.65 |
| 50-100: | $1.48 |
| 100-250: | $1.43 |
| 250-500: | $1.42 |
| 500-1000: | $1.32 |
| 1000-2500: | $1.30 |


W9828BADA

Other



Data Sheet

Negotiable

W9825G6EH

Other



Data Sheet

Negotiable

W982516BH-75

Other



Data Sheet

Negotiable

W982516BH

Other



Data Sheet

Negotiable