Product Summary
The CY62256NL-70SNXI is a high-performance CMOS static RAM organized as 32K words by 8 bits. Easy memory expansion is provided by an active LOW chip enable (CE) and active LOW output enable (OE) and tri-state drivers. The CY62256NL-70SNXI has an automatic power-down feature, reducing the power consumption by 99.9% when deselected.
Parametrics
CY62256NL-70SNXI absolute maximum ratings: (1)Storage Temperature: -65℃ to +150℃; (2)Ambient Temperature with Power Applied: -55℃ to +125℃; (3)Supply Voltage to Ground Potential: -0.5V to +7.0V; (4)DC Voltage Applied to Outputs in High-Z State: -0.5V to VCC + 0.5V; (5)DC Input Voltage: -0.5V to VCC + 0.5V; (6)Output Current into Outputs (LOW): 20 mA; (7)Static Discharge Voltage: > 2001V (per MIL-STD-883, Method 3015); (8)Latch-up Current: > 200 mA.
Features
CY62256NL-70SNXI features: (1)Temperature Ranges, Commercial: 0 to 70℃; Industrial: -40 to 85℃; Automotive-A: -40 to 85℃; Automotive-E: -40 to 125℃; (2)High speed: 55 ns; (3)Voltage range: 4.5V-5.5V operation; (4)Low active power, 275 mW (max.); (5)Low standby power (LL version), 82.5μW (max.); (6)Easy memory expansion with CE and OE features; (7)TTL-compatible inputs and outputs; (8)Automatic power-down when deselected; (9)CMOS for optimum speed/power; (10)Available in pb-free and non Pb-free 28-lead (600-mil) PDIP, 28-lead (300-mil) narrow SOIC, 28-lead TSOP-I and 28-lead Reverse TSOP-I packages.
Diagrams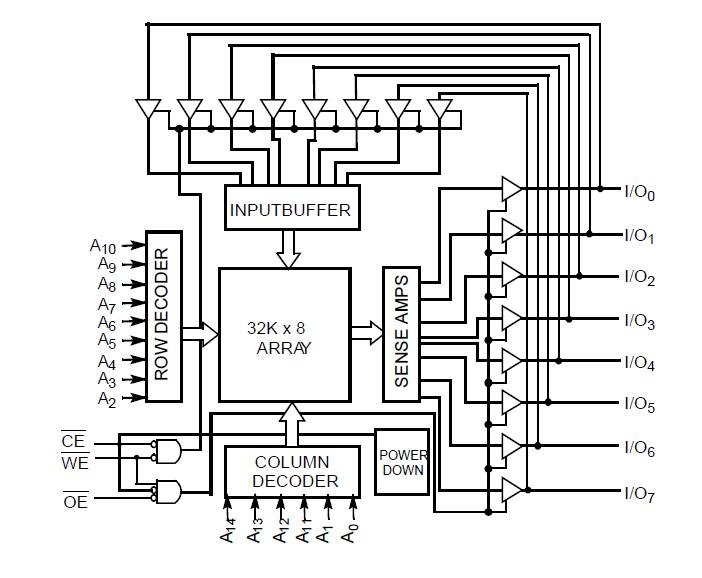 Image
Part No
Mfg
Description
Pricing
(USD)
Quantity

CY62256NL-70SNXI



IC SRAM 256KBIT 70NS 28SOIC

Data Sheet

Negotiable
Image
Part No
Mfg
Description
Pricing
(USD)
Quantity

CY62127DV30L-55ZSXE



IC SRAM 1MBIT 55NS 44TSOP

Data Sheet

Negotiable

CY62127DV30L-55ZSXET



IC SRAM 1MBIT 55NS 44TSOP

Data Sheet

Negotiable

CY62128ELL-45ZAXIT

Cypress Semiconductor

SRAM 1M MOBL ULTRA LO PWR HI SPD IND

Data Sheet



| | |
| --- | --- |
| 0-1115: | $1.34 |
| 1115-1500: | $1.34 |
| 1500-2000: | $1.29 |
| 2000-5000: | $1.27 |


CY62128EV30LL-45ZXIT

Cypress Semiconductor

SRAM 1M MOBL ULTRA LO PWR HI SPD IND

Data Sheet



| | |
| --- | --- |
| 0-1115: | $1.51 |
| 1115-1500: | $1.51 |
| 1500-2000: | $1.45 |
| 2000-5000: | $1.42 |


CY62136VNLL-70BAXAT

Cypress Semiconductor

SRAM SLO 3.0V SUPER LO PWR 128K X 16 SRAM

Data Sheet

Negotiable

CY62136VLL-70ZSXE



IC SRAM 2MBIT 70NS 44TSOP

Data Sheet

Negotiable