Product Summary
The KA5M02659RN is a Power Switch(FPS) product. The device is specially designed for an off-line SMPS with minimal external components. The KA5M02659RN consists of high voltage power SenseFET and current mode PWM IC. Included PWM controller features integrated fixed oscillator, under voltage lock out, leading edge blanking, optimized gate turn-on/turn-off driver, thermal shut down protection, over voltage protection, and temperature compensated precision current sources for loop compensation and fault protection circuitry-compared to discrete MOSFET and controller or RCC switching converter solution. The KA5M02659RN can reduce total component count, design size, weight and at the same time increase efficiency, productivity, and system reliability. The KA5M02659RN has a basic platform well suited for cost-effective design in either a flyback converter or a forward converter.
Parametrics
KA5M02659RN absolute maximum ratings: (1)rain-Gate Voltage (RGS=1MΩ), VDGR: 650 V; (2)Gate-Source (GND) Voltage, VGS: ±30 V; (3)Drain Current Pulsed, IDM: 8.0 ADC; (4)Continuous Drain Current (TC=25℃), ID: 2.0 ADC; (5)Continuous Drain Current (TC=100℃), ID: 1.3 ADC; (6)Single Pulsed Avalanche Energy, EAS: 68 mJ; (7)Maximum Supply Voltage, VCC,MAX: 30 V; (8)Analog Input Voltage Range, VFB: -0.3 to VSD V; (9)Total Power Dissipation, PD: 42 W; (10)Operating Junction Temperature, TJ: +160℃; (11)Operating Ambient Temperature, TA: -25 to +85℃; (12)Storage Temperature Range, TSTG: -55 to +150℃.
Features
KA5M02659RN features: (1)Precision Fixed Operating Frequency (100/67/50kHz); (2) (Typ. 100uA); (3)Pulse by Pulse Current Limiting; (4)Over Load Protection; (5)Over Voltage Protection (Min. 25V); (6)Internal Thermal Shutdown Function; (7)Under Voltage Lockout; (8)Internal High Voltage Sense FET; (9)Auto-Restart Mode.
Diagrams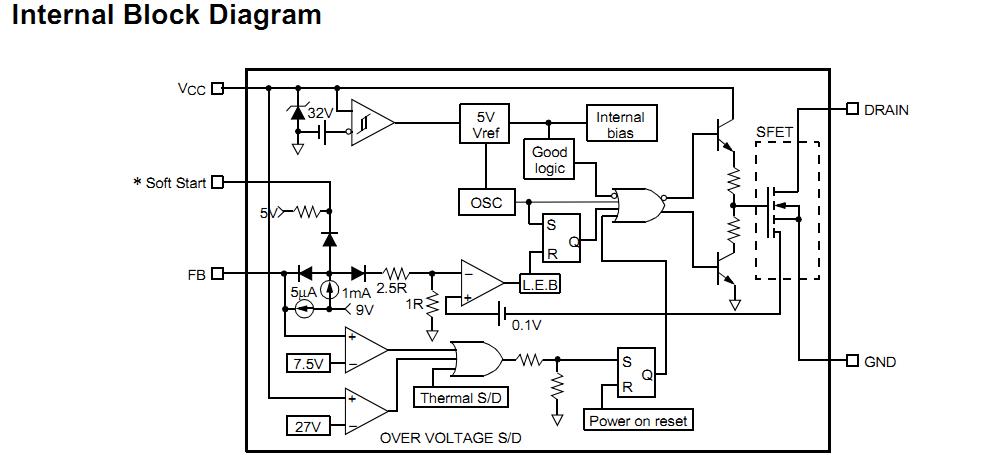 Image
Part No
Mfg
Description
Pricing
(USD)
Quantity

KA5M02659RN

Fairchild Semiconductor

Switching Converters, Regulators & Controllers 2A/650V 70KHz Power Switch

Data Sheet



| | |
| --- | --- |
| 0-1940: | $0.41 |
| 1940-2000: | $0.34 |
| 2000-5000: | $0.32 |

Image
Part No
Mfg
Description
Pricing
(USD)
Quantity

KA5M0165RIYDTU

Fairchild Semiconductor

Power Switch ICs - Power Distribution

Data Sheet

Negotiable

KA5M0165RN

Fairchild Semiconductor

Switching Converters, Regulators & Controllers 1A/650V 70KHz Power Switch

Data Sheet

Negotiable

KA5M0165RTU

Fairchild Semiconductor

Switching Converters, Regulators & Controllers 100KHz POWER SWITCH

Data Sheet

Negotiable

KA5M0165RYDTU

Fairchild Semiconductor

Switching Converters, Regulators & Controllers 100KHz POWER SWITCH

Data Sheet

Negotiable

KA5M0380RTU

Fairchild Semiconductor

Switching Converters, Regulators & Controllers 3A/800V 70KHz Power Switch

Data Sheet



| | |
| --- | --- |
| 0-1: | $1.64 |
| 1-25: | $1.32 |
| 25-100: | $1.19 |
| 100-250: | $1.06 |


KA5M02659RN

Fairchild Semiconductor

Switching Converters, Regulators & Controllers 2A/650V 70KHz Power Switch

Data Sheet



| | |
| --- | --- |
| 0-1940: | $0.41 |
| 1940-2000: | $0.34 |
| 2000-5000: | $0.32 |