Product Summary
The LC4032ZE-7TN is an In-System Programmable Ultra Low Power PLD offers an ultra low power CPLD solution. The new family is based on Lattice's industry-leading ispMACH 4000 architecture. Retaining the best of the previous generation, the LC4032ZE-7TN architecture focuses on significant innovations to combine high performance with low power in a flexible CPLD family. For example, the family's new Power Guard feature minimizes dynamic power consumption by preventing internal logic toggling due to unnecessary I/O pin activity.
Parametrics
LC4032ZE-7TN absolute maximum ratings: (1)Supply Voltage (VCC): -0.5 to 2.5V; (2)Output Supply Voltage (VCCO): -0.5 to 4.5V; (3)Input or I/O Tristate Voltage Applied4, 5: -0.5 to 5.5V; (4)Storage Temperature: -65 to 150℃; (5)Junction Temperature (Tj) with Power Applied: -55 to 150℃.

Features
LC4032ZE-7TN features: (1)High Performance, fMAX = 260MHz maximum operating frequency; tPD = 4.4ns propagation delay; Up to four global clock pins with programmable clock polarity control; Up to 80 PTs per output; (2)Ease of Design, Flexible CPLD macrocells with individual clock, reset, preset and clock enable controls; Up to four global OE controls; Individual local OE control per I/O pin; Excellent First-Time-Fit and refit; Wide input gating (36 input logic blocks) for fast counters, state machines and address decoders; (3)Ultra Low Power, Standby current as low as 10μA typical; 1.8V core; low dynamic power; Operational down to 1.6V VCC; Superior solution for power sensitive consumer applications; Per pin pull-up, pull-down or bus keeper control; Power Guard with multiple enable signals.
Diagrams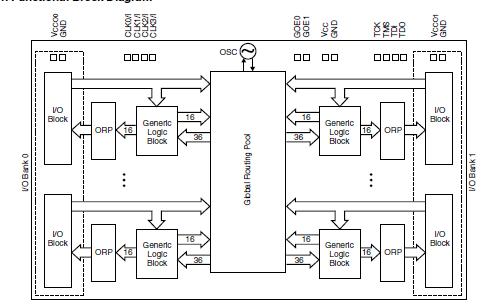 Image
Part No
Mfg
Description
Pricing
(USD)
Quantity

LC4032ZE-7TN48C

Lattice

CPLD - Complex Programmable Logic Devices 32MC 32 I/O LOW PWR 1.8V 7.5ns

Data Sheet



| | |
| --- | --- |
| 0-1: | $0.72 |
| 1-25: | $0.66 |
| 25-100: | $0.63 |


LC4032ZE-7TN48CES

Lattice

CPLD - Complex Programmable Logic Devices 36 I/O 1.8V 7.5ns Ultra Low Power

Data Sheet

Negotiable

LC4032ZE-7TN48I

Lattice

CPLD - Complex Programmable Logic Devices 32MC 32 I/O LOW PWR 1.8V 7.5ns

Data Sheet



| | |
| --- | --- |
| 0-1: | $0.79 |
| 1-25: | $0.72 |
| 25-100: | $0.69 |


LC4032ZE-7TN48IES

Lattice

CPLD - Complex Programmable Logic Devices 36 I/O 1.8V 7.5ns Ultra Low Power

Data Sheet

Negotiable