Product Summary
The TPS60500DGSR is a step-down charge pump that generates a regulated, fixed 3.3-V, 1.8-V, 1.5-V, or adjustable output voltage. Only four small ceramic capacitors are required to build a complete high efficiency dc/dc charge pump converter. To achieve the high efficiency over a wide input voltage range, the charge pump automatically selects between three different conversion modes. The applications of the TPS60500DGSR include Personal Digital Assistants, DSP Core Supply, Cellular Phones, Portable Instruments, Internet Audio Player, PC Peripherals, USB Powered Applications.
Parametrics
TPS60500DGSR absolute maximum ratings: (1)Voltage range at VIN, EN, PG to GND: -0.3 V to 7 V; (2)Voltage range at OUT, FB to GND: -0.3 V to 3.6 V; (3)Voltage range at C1F+, C1F–, C2F+, C2F– to GND: -0.3 V to 7 V; (4)Continuous power dissipation: See Dissipation Rating Table; (5)Output current at OUT: 300 mA; (6)Storage temperature range, Tstg: -55℃ to 150℃; (7)Maximum junction temperature, TJ: 150℃.
Features
TPS60500DGSR features: (1)Regulated 3.3-V, 1.8-V, 1.5-V, or Adjustable Output Voltage; (2)Up to 250-mA Output Current; (3)1.8-V to 6.5-V Input Voltage; (4)Up to 90% Efficiency; (5)Output Voltage Tolerance 3% Over Line, Load, and Temperature Variation; (6)Device Quiescent Current Less Than 40 μA; (7)Output Voltage Supervisor Included (Power Good); (8)Internal Soft Start; (9)Load Isolated From Battery During Shutdown; (10)Overtemperature and Overcurrent Protected; (11)Micro-Small 10-Pin MSOP Package; (12)EVM Available, TPS60500EVM-193.
Diagrams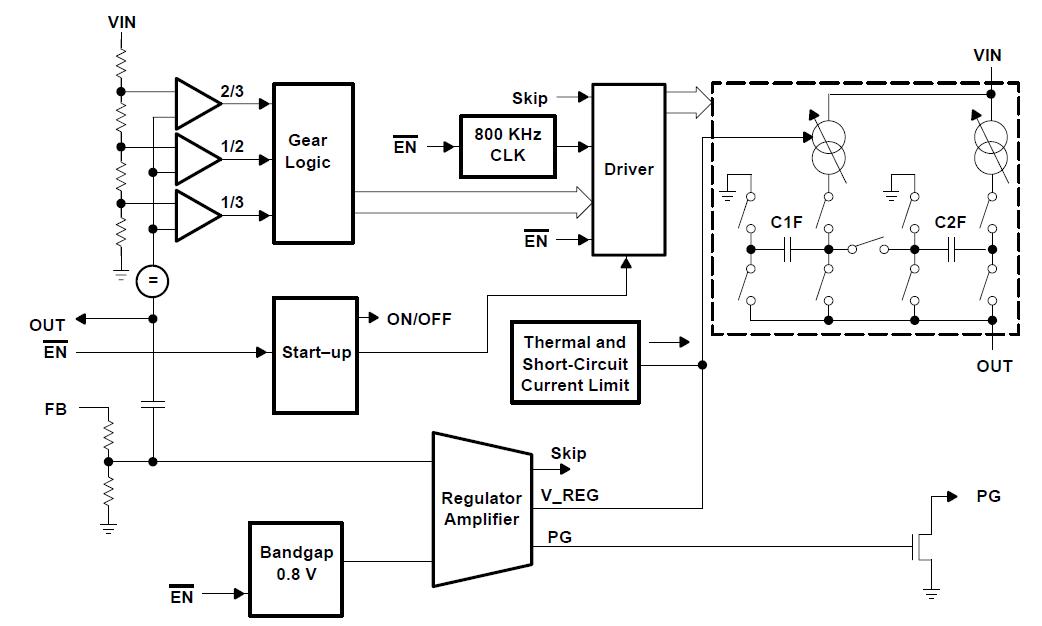 Image
Part No
Mfg
Description
Pricing
(USD)
Quantity

TPS60500DGSR

Texas Instruments

Charge Pumps 250-mA Adj Hi-Eff Step-Dwn Chrg Pump

Data Sheet



| | |
| --- | --- |
| 0-1: | $1.05 |
| 1-25: | $0.84 |
| 25-100: | $0.76 |
| 100-250: | $0.71 |


TPS60500DGSRG4

Texas Instruments

Charge Pumps 250-mA Adj Hi-Eff Step-Dwn Chrg Pump

Data Sheet



| | |
| --- | --- |
| 0-1790: | $0.55 |
| 1790-2000: | $0.52 |
| 2000-2500: | $0.52 |
| 2500-5000: | $0.50 |