Product Summary
The FJP13007H1TU is a High Voltage Fast-Switching NPN Power Transistor.
Parametrics
FJP13007H1TU absolute maximum ratings: (1)VCBO, Collector-Base Voltage: 700 V; (2)VCEO, Collector-Emitter Voltage: 400 V; (3)VEBO, Emitter-Base Voltage: 9 V; (4)IC, Collector Current (DC): 8 A; (5)ICP, Collector Current (Pulse): 16 A; (6)IB, Base Current: 4 A; (7)PC, Collector Dissipation (TC = 25℃): 80 W; (8)TJ, Junction Temperature: 150℃; (9)TSTG, Storage Temperature: -65 ~ 150℃.
Features
FJP13007H1TU features: (1)High Voltage Capability; (2)High Switching Speed; (3)Suitable for Electronic Ballast and Switching Mode Power Supply.
Diagrams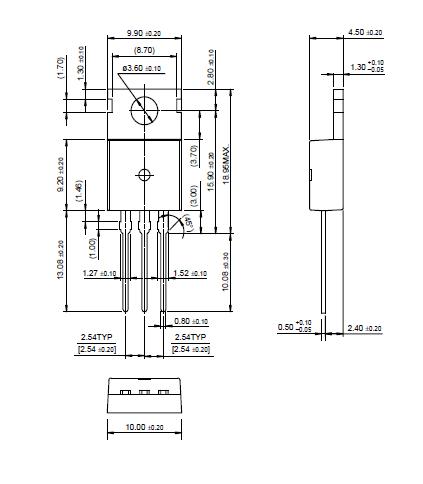 Image
Part No
Mfg
Description
Pricing
(USD)
Quantity

FJP13007H1TU

Fairchild Semiconductor

Transistors Bipolar (BJT) NPN Sil Transistor

Data Sheet



| | |
| --- | --- |
| 0-1: | $0.47 |
| 1-25: | $0.36 |
| 25-100: | $0.29 |
| 100-250: | $0.25 |

Image
Part No
Mfg
Description
Pricing
(USD)
Quantity

FJP13007H1TU

Fairchild Semiconductor

Transistors Bipolar (BJT) NPN Sil Transistor

Data Sheet



| | |
| --- | --- |
| 0-1: | $0.47 |
| 1-25: | $0.36 |
| 25-100: | $0.29 |
| 100-250: | $0.25 |


FJP13007H2TU

Fairchild Semiconductor

Transistors Bipolar (BJT) NPN Sil Transistor

Data Sheet



| | |
| --- | --- |
| 0-1: | $0.47 |
| 1-25: | $0.41 |
| 25-100: | $0.36 |
| 100-250: | $0.31 |


FJP13009

Fairchild Semiconductor

Transistors Bipolar (BJT) NPN Sil Transistor

Data Sheet



| | |
| --- | --- |
| 0-1: | $0.60 |
| 1-25: | $0.52 |
| 25-100: | $0.44 |
| 100-250: | $0.32 |


FJP13009H2TU_F138

Fairchild Semiconductor

Transistors Bipolar (BJT) TO220 HI VOLTAGE SWITCH MODE APP

Data Sheet

Negotiable

FJP1943RTU

Fairchild Semiconductor

Transistors Switching (Resistor Biased) PNP -250V -17A 80W Silicon

Data Sheet



| | |
| --- | --- |
| 0-580: | $0.68 |
| 580-1000: | $0.57 |
| 1000-2000: | $0.53 |
| 2000-5000: | $0.51 |


FJP13007H2TU_F138

Fairchild Semiconductor

Transistors Bipolar (BJT) TO220 HI VOLT FAST SWITCH NPN PWR TRANS

Data Sheet

Negotiable