Product Summary
The MT47H32M16BN-3:D is a DDR2 SDRAM. The MT47H32M16BN-3:D uses a double data rate architecture to achieve high-speed operation. The double data rate architecture is essentially a 4n-prefetch architecture, with an interface designed to transfer two data words per clock cycle at the I/O balls. A single read or write access for the DDR2 SDRAM effectively consists of a single 4n-bit-wide, one-clock-cycle data transfer at the internal DRAM core and four corresponding n-bit-wide, one-half-clock-cycle data transfers at the I/O balls.
Parametrics
MT47H32M16BN-3:D absolute maximum ratings: (1)VDD supply voltage relative to VSS, VDD: –1.0 to 2.3 V; (2)VDDQ supply voltage relative to VSSQ, VDDQ: –0.5 to 2.3 V; (3)VDDL supply voltage relative to VSSL, VDDL: –0.5 to 2.3 V; (4)Voltage on any ball relative to VSS, VIN, VOUT: –0.5 to 2.3 V; (5)Input leakage current; any input 0V ≤ VIN ≤ VDD; all other; (6)balls not under test = 0V, II: –5 to 5 μA; (7)Output leakage current; 0V ≤ VOUT ≤ VDDQ; DQ and ODT disabled, IOZ: –5 to 5 μA; (8)VREF leakage current; VREF = Valid VREF level, IVREF: –2 to 2 μA.
Features
MT47H32M16BN-3:D features: (1)VDD = +1.8V ±0.1V, VDDQ = +1.8V ±0.1V; (2)JEDEC-standard 1.8V I/O (SSTL_18-compatible); (3)Differential data strobe (DQS, DQS#) option; (4)?4n-bit prefetch architecture; (5)Duplicate output strobe (RDQS) option for x8; (6)DLL to align DQ and DQS transitions with CK; (7)8 internal banks for concurrent operation; (8)Programmable CAS latency (CL); (9)Posted CAS additive latency (AL); (10)WRITE latency = READ latency - 1 tCK; (11)Selectable burst lengths (BL): 4 or 8; (12)Adjustable data-output drive strength; (13)64ms, 8192-cycle refresh; (14)On-die termination (ODT); (15)Industrial temperature (IT) option; (16)Automotive temperature (AT) option; (17)RoHS-compliant; (18)Supports JEDEC clock jitter specification.
Diagrams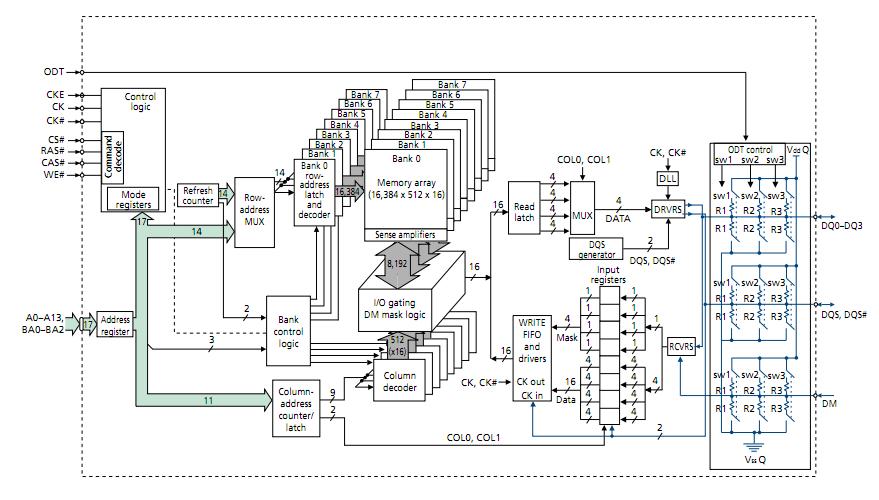 Image
Part No
Mfg
Description
Pricing
(USD)
Quantity

MT47H32M16BN-3:D TR



IC DDR2 SDRAM 512MBIT 3NS 84FBGA

Data Sheet

Negotiable
Image
Part No
Mfg
Description
Pricing
(USD)
Quantity

MT47H128M16PK-25E IT:C



IC DDR2 SDRAM 2GB 84FBGA

Data Sheet



MT47H128M16RT-3:C



IC DDR2 SDRAM 2GB 667HZ 84FBGA

Data Sheet



MT47H128M4B6-25:D TR



IC DDR2 SDRAM 512MBIT 60VFBGA

Data Sheet

Negotiable

MT47H128M4B6-25E:D TR



IC DDR2 SDRAM 512MBIT 60VFBGA

Data Sheet

Negotiable

MT47H128M4B6-3:D TR



IC DDR2 SDRAM 512MBIT 3NS 60FBGA

Data Sheet



| | |
| --- | --- |
| 0-1: | $7.87 |
| 1-10: | $7.28 |
| 10-25: | $7.18 |
| 25-50: | $7.09 |
| 50-100: | $6.22 |
| 100-250: | $5.95 |
| 250-500: | $5.91 |


MT47H128M4BT-37E:A TR



IC DDR2 SDRAM 512MBIT 92FBGA

Data Sheet



| | |
| --- | --- |
| 0-1: | $15.47 |
| 1-10: | $14.55 |
| 10-25: | $14.05 |
| 25-50: | $13.60 |
| 50-100: | $11.97 |
| 100-250: | $11.65 |
| 250-500: | $11.30 |