Product Summary
The TLV320AIC3101 is a low-power stereo audio codec with stereo headphone amplifier, as well as multiple inputs and outputs that are programmable in single-ended or fully differential configurations. The record path of the TLV320AIC3101 contains ntegrated microphone bias, digitally controlled stereo microphone preamplifier, and automatic gain control (AGC) , with mix/mux capability among the multiple analog inputs. Applications of the TLV320AIC3101 include: Digital Cameras, Smart Cellular Phones.
Parametrics
TLV320AIC3101 absolute maximum ratings: AVDD to AVSS, DRVDD to DRVSS: -0.3V to 3.9V; (2) AVDD to DRVSS: -0.3V to 3.9V; (3) IOVDD to DVSS: -0.3V to 3.9V; (4) DVDD to DVSS: -0.3V to 2.5V; (5) AVDD to DRVDD: -0.1V to 0.1V; (6) Digital input voltage to DVSS/; -0.3V to IOVDD +0.3V; (7) Analog input voltage to AVSS: -0.3V to AVDD +0.3V; (8) Operating temperature range: -40°C to 85°C; (9) Storage temperature range: -65°C to 105°C; (10) Power dissipation: 0.5W.
Features
TLV320AIC3101 features: (1) Stereo Audio DAC; (2) Flexible Power Saving Modes and Performance are Available; (3) Stereo Audio ADC; (4) Digital Signal Processing and Noise Filtering Available During Record; (5) Six Audio Output Drivers; (6) Extensive Modular Power Control; (7) Ultralow-Power Mode With Passive Analog Bypass; (8) Fully Differential Stereo Line Outputs.
Diagrams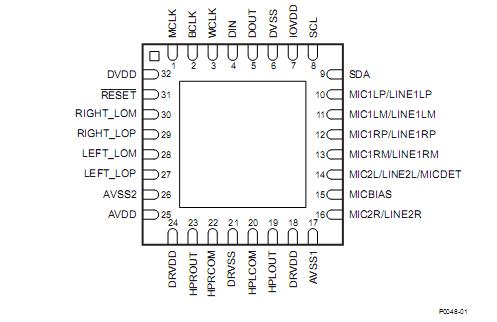 Image
Part No
Mfg
Description
Pricing
(USD)
Quantity

TLV320AIC3101IRHBR

Texas Instruments

Audio CODECs 6 In & Out Speaker & Headph Amp

Data Sheet



| | |
| --- | --- |
| 0-2030: | $1.55 |
| 2030-2500: | $1.55 |

Image
Part No
Mfg
Description
Pricing
(USD)
Quantity

TLV320A3254IRHBRG4

Texas Instruments

Audio CODECs Very Low-Pwr Stereo Audio CODEC

Data Sheet



| | |
| --- | --- |
| 0-2425: | $2.93 |
| 2425-3000: | $2.93 |


TLV320A20KIPFBRG4

Texas Instruments

Audio CODECs 3.3-V 12-Bit Univ Bus Driver

Data Sheet



| | |
| --- | --- |
| 0-790: | $2.05 |
| 790-1000: | $2.03 |
| 1000-2000: | $2.00 |


TLV320AIC1103PBSG4

Texas Instruments

Audio CODECs Prog PCM w/Microphn Amps & Speaker Drvr

Data Sheet



| | |
| --- | --- |
| 0-190: | $2.75 |
| 190-250: | $2.67 |
| 250-500: | $2.59 |
| 500-1000: | $2.54 |


TLV320AIC10CPFBG4

Texas Instruments

Audio CODECs 16-Bit Reg Trnscvr With 3-State Outputs

Data Sheet



| | |
| --- | --- |
| 0-190: | $2.11 |
| 190-250: | $2.05 |
| 250-500: | $1.98 |
| 500-1000: | $1.95 |


TLV320AIC1110PBSG4

Texas Instruments

Audio CODECs Prog PCM w/Microphn Amps & Speaker Drvr

Data Sheet



| | |
| --- | --- |
| 0-190: | $2.78 |
| 190-250: | $2.71 |
| 250-500: | $2.62 |
| 500-1000: | $2.58 |


TLV3011AIDBVRG4

Texas Instruments

Comparator ICs Lo Pwr Open Drain Output Comparator

Data Sheet



| | |
| --- | --- |
| 0-2410: | $0.51 |
| 2410-3000: | $0.50 |