Product Summary
The NAND512R3A2DZA6E is an NAND Flash 528 Byte/ 264 Word Page memory that uses the Single Level Cell (SLC) NAND cell technology. It is referred to as the Small Page family. The NAND512R3A2DZA6E ranges from 128Mbits to 1Gbit and operate with either a 1.8V or 3V voltage supply. The size of a Page is either 528 Bytes (512 + 16 spare) or 264 Words (256 + 8 spare) depending on whether the device has a x8 or x16 bus width.
Parametrics
NAND512R3A2DZA6E absolute maximum ratings: (1)TBIAS, Temperature under bias: -50 to 125℃; (2)TSTG, Storage temperature: -65 to 150℃; (3)VIO, Input or output voltage: -0.6 to 4.6 V; (4)VDD, Supply voltage: -0.6 to 4.6 V.
Features
NAND512R3A2DZA6E features: (1)High density NAND Flash Memory, Up to 8 Gbit memory array; Cost-effective solution for mass storage applications; (2)NAND interface, x8 or 16x bus width; Multiplexed address/data; (3)Supply voltage: 1.8 V or 3.0 V device; (4)Page size, x8 device: (2048 + 64 spare) bytes; x16 device: (1024 + 32 spare) words; (5)Block size, x8 device: (128K + 4 K spare) bytes; x16 device: (64K + 2 K spare) words; (6)Multiplane architecture, Array split into two independent planes; Program/erase operations can be performed on both planes at the same time; (7)Page read/program, Random access: 25 μs (max); Sequential access: 25 ns (min); Page program time: 200 μs (typ); Multiplane page program time (2 pages): 200 μs (typ); (8)Copy back program with automatic error detection code (EDC); (9)Cache read mode; (10)Fast block erase, Block erase time: 1.5 ms (typ); Multiblock erase time (2 blocks): 1.5 ms (typ); (11)Status Register; (12)Electronic signature; (13)Chip Enable don't care; (14)Serial number option.
Diagrams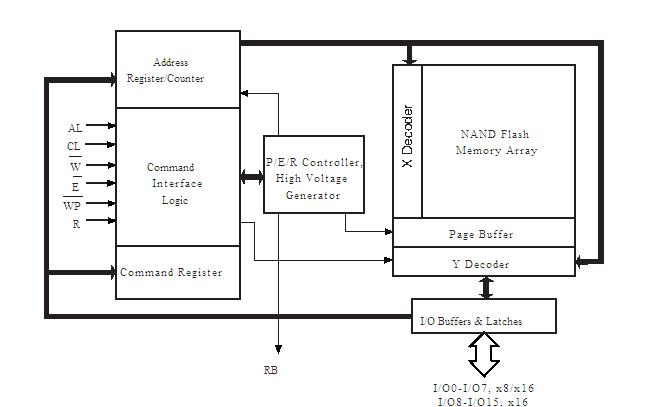 Image
Part No
Mfg
Description
Pricing
(USD)
Quantity

NAND512R3A2DZA6E



IC FLASH 512MBIT 63VFBGA

Data Sheet

Negotiable
Image
Part No
Mfg
Description
Pricing
(USD)
Quantity

NAND01G-AAZ3E

Other



Data Sheet

Negotiable

NAND01G-B

Other



Data Sheet

Negotiable

NAND01GR3B2BZA6E



IC FLASH 1GBIT 63VFBGA

Data Sheet

Negotiable

NAND01GR3B2CZA6E



IC FLASH 1GBIT 63VFBGA

Data Sheet



| | |
| --- | --- |
| 0-1: | $2.51 |
| 1-10: | $2.29 |
| 10-50: | $2.23 |
| 50-100: | $2.00 |
| 100-250: | $2.00 |
| 250-500: | $1.87 |
| 500-1000: | $1.79 |
| 1000-2500: | $1.78 |


NAND01GR4B2ADI6

STMicroelectronics

Flash NAND & S.MEDIA FLASH

Data Sheet

Negotiable

NAND01GR4B2BDI6

STMicroelectronics

Flash NAND & S.MEDIA FLASH

Data Sheet

Negotiable